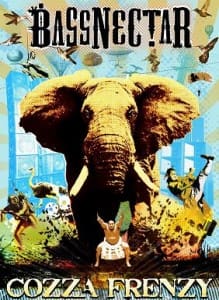 After months of planning and brainstorming, we have put together an absolute FREEEAAAAKSHOW of a tour for the fall to coincide with the next Bassnectar release, titled COZZA FRENZY. We will be coming at you live pretty much solid Fall and Winter, alongside special guests DJ Vadim, Nosaj Thing, and Heavyweight Dub Champion.
Visit the tour schedule for the full event calendar, and feel free to hop on board the merry roadshow as we travel far and wide, stirring up a ruckus and causing a frenzy.
The tour launches on October 1st and features custom-built PK-Sound System enhancements for larger-than-life audio courtesy of The Wobbly Factory. On the cultural end, we are also working with a community of activists to generate involvement in local issues that pertain to each city along the tour route. (email basscorsair(at)bassnectar.net to get involved or check out the community page online!). Also, limited presale discount tickets are available at bassnectar.net so hop to it, bassfreaks!
Stay tuned for the release of Bassnectar's debut single (3 versions of Cozza Frenzy out August 4th on iTunes) from the forthcoming album (a dozen new tracks and heaps of remixes due out on all formats October 2009) in partnership between Amorphous Music and Child's Play Records. The original version is a head-banging body-rocking anthem, where dubstep and electro collide beneath a chopped and screwed vocal courtesy of Oakland mc/vocalist Seasunz. Z-Trip's 'Hellrazor Remix' takes the original and flips it into a scratch track with loads of cuts and edits. Scratch djs and turntablists will eat this alive. Finally, Bassnectar give us his own 'mega-bass' remix – a straightforward dubstep version perfect for ripping any dance floor into complete frenzy. Hence the name…
Check out a sample:
More tracks and remix packages of all styles and genres to follow in the coming weeks, so stay tuned…
Also, tune into the podcast through the Summer for more singles and bootlegs to drop.
This weekend is jammed with two mega fiasco freakouts… July 31, friday night in Colorado, at the esteemed Boulder Theatre, Bassnectar plays at 1:30am, after special guests (including Mr Projectile and others). And on Saturday August 1st, in Southern California at JuJu Beats, playing at midnight, in between The Glitch Mob and Z-Trip.
Visit the tour schedule for the full event info!
For Any folks local to the San Francisco area, Lorin's Burningman Camp (El Circo & The Do Lab) are doing their annual fundraiser, to bring you pounds and pounds of art and bass to the desert this summer. Please come support!
El Circo & The Do Lab
Burning Man Camp SF Fundraiser
Friday July 31st 2009
103 Harriet Street SF
For Info and to Donate: http://elcirco.thedolab.com
(Note: if you can't make it to the fundraiser, but you know you are gonna be raging with us out in the desert, you can donate via the paypal link on the website. THANKS!)
Welcome to Bassland. Thanks for tuning in
And thank you SO MUCH to everyone who took the time to send us feedback, comments, thoughts and perspective. I decided to not respond to each one individually, because the point is i need to finish some music, but i soaked up all your ideas with vigor, and i am ever more inspired from it. Keep it coming…
We've got a new little bootleg for your ear drummmmms this week! It's a mish-mash of components and it's on the downtempo side of things…
I took the beat of a long-overdue unreleased tune called "Stretch Reflex" and melted it together with the synths and melodies from another song that was supposed to be on Underground Communication, but ended up getting saved for later. It was written as a pensive homage to the dead, the original melodics sound like a black metal song but in this version they have kind of a nice 1990's Orb or FSOL feel to them…that sound will never get old for me! Then i took some of the prettier melodies from that song and mixed them with a Lupe Fiasco acapella (i looooove his voice) and it became one of my favorite tunes to close a party with.
So this week we give to you 'Land of the Lupes' which is the working title of this goofily random combination of sounds, and an unrelated homage to one of my favorite bands in the world, Land of the Loops. It will most likely be included as an instrumental on the upcoming album this fall, and that "Stretch Reflex" beat will most likely be released on my website as a DJ Tools & Loops collection.
BUT FIRST! i will analyze myself:
And i will precede that with an admission: I am, perhaps, overly analytical at all times.
I remember when my father told me "you can do whatever you want in life – ANYTHING you want – but you cannot do everything".
Implicit in his message to me was when you choose "Yes" to any one thing, you actively choose "No" to everything else. And that makes saying yes, at least for me, VERY difficult.
masssss dificil.
Because i want to do SO MANY THINGS, and i go soooo many directions simultaneously. And i am not afraid to admit when I'm wrong, even when i'm dead wrong. So it makes me open to a zillion possibilities.
This is probably the hardest to deal with when making music.
Every SINGLE second of any song (or potential song) can do/go/be anything/anywhere. The tempo can change, the layers can change, the drums can go out, or switch up, or get thick, or repeat, or the melody can switch voices, or go dry, or get new effects, or the effects can automate, etc etc etc.
i LITERALLY have spent/wasted/given thousands and thousands of hours of my life to this bizarre process, and there are now countless half-finished tracks living in a ghostly in-between-state of nonexistence on my computers…songs that may one day exist fully, but for now are awesome combination of possibilities, tangents, and explorations.
'Land of the Lupes' is a mixture of beats from one song, and melodies from 1 of the many versions of another unfinished song…they were totally unrelated, and also have nothing to do with the acapella.
but Happy Accidents lead to sometimes happy results, and that's maybe one reason i think this tune sounds so good.
Keep in mind, like Goldiloxxx, we always want the porridge to be JUST RIGHT, not too hot not too cold.
Not too hard. not too soft.
This song is a bit on the softer side, so maybe its a balance for some of the new grinders pumping out of the labs these days… Viva La Tempo Changes! Viva La Ripping Sleazy Bass Patches! Viva La Musica!
So "Land of the Lupes" is kind of the goldilocksical counter-balance to the hardcore edge (like 'Ready To Rage' and the "Lions" remix); and i hope you enjoy them both, in their own special ways…
Alt download link: Click here.
-Loraximus.
MUCH LOVE for spreading the word:
Hello Vegetables
Generation Bass
We Are Not a Rock Band
Dancefloor Mayhem
DOKTOR KRANK!
Chromekids
The Mahogany Blog
Lost Art of Found Sound
Latemag.com
Dub Step Music
Mixed Business
Jakenjake.com
RRRRRRRRRRRRRRRRREEEEE-SEARCHHHHH!!!!
(Survey Below)
ok. this barely feels real, but i think that i am nearing the final hours of over 3 years of work on the next album (unless something very unexpected pops up).
I have nearly 50 songs to choose from, none of them are done (as i've said before no song EVER feels done…its just an orgiastic ceremony of distraction and obsession and progress, frozen in time, perhaps not ever fully developed) but i am nearing a deadline (July 30th) and at that point i have to have AT LEAST 10 finished tracks.
Finishing a track isn't so hard, except that:
a) i obssessssss on the details, so each one has at least an entire month spent combing through micro seconds of sonic occurance
b) i don't think occurance is a word.
c) in finishing a track i am directly choosing NOT to do a million possible things, and that is tough to decide
d) choosing the track for an album directs the flow of all other tracks.
So if i wind up with a really beastial grinder then i NEED to find something more melodic and dreamy (or emotive) to balance it out…if something is super tinkly, then i need to find something subby to balance it out.
If a song takes itself too seriously, then i need to find a lighter song to balance it out.
And even after i choose 10 songs, what to do with the other 40? Some of these have been left around since Mesmerizing the Ultra, and just never selected, …in fact i have nearly 100 of these songs which have been Live-Show-Only… so maybe i can steal the beat out of one of my forsaken sound…or that SUPER COOL "bloop bloop" sound i made back in 1996 splicing tape, or that wierd laughter loop from 2003, or some certain vocal loop that's never been effected (chrizzt! as i say all this, im thinking about even more and more unfinished projects…there might be closer to 200 actually!)
i want to free the music!!!!!
SO… i am reaching out to you…i need to do some research.
Can you please come to bassnectar.net (maybe you are already here, or maybe you are reading this on some 3rd party site) and chime in…
Please tell me:
1. What do you want
2. What do you not want
3. What are your favorite Bassnectar songs *OFF MY PREVIOUS ALBUMS* (not mashups, remixes, DJ mixes, etc… but actual Bassnectar originals and Bassnectar remixes off of albums)
And WHY?
4. What are your least favorite Bassnectar songs, and why? (please do not hate, i am looking for constructive criticism. Believe it or not, all humans are vulnerable, nobody likes to be hated on… just be constructive)
5. Do you understand the difference between genres? (dubstep, drum n bass, hip hop, mid tempo, glitch hop, downtempo, breaks, etc)?
If so, which do you prefer and why?
6. what do you like about music?
7. TECHNICAL FORMAT: how do you listen to it? iTunes? mp3? CD? Do you buy music? download it, trade it with friends? Do you want to support an artist? (BE HONEST!) or would you rather just save the ten dollars, and let the scurrrvy artist fend fo' they dammmm selves?
8. Social Format: Do you want music to rage to? House party style? In the car? while you chill at home? in headphones out "in the real world"? Do you prefer dancing to dance music (out at an event) and listening to listening music (more laid back music) when you are not at an event?
9. thank you…all your responses and opinions are FASCINATING to me…i am SO thirsty to study you like a mad scientist…all i have seen for the past year is rooms full of people FREAKING tha FECK out, but i want to get a deeper understanding of what you wish for, what you like, and why.
10. No expectations, k? The next Bassnectar record might just be 10 random sketches i feel like calling songs… you might feel so ripped off, disillusioned, and betrayed that you never want to hear my music again. Or it might be EXACTLY what you need. Maybe it will grow on you slowly, or maybe you will only like one song.
This has all changed for me, as the "game" has become so much about the live show, i have just been creating music as almost components or parts of personality to engage with live during a show.
it is SO fun to do this…watch all these different personalities play with each other.
Throw other ingredients into the mix
its like a cooking show.
but now i wanna make 10 little hot cakes, so help me out and let me know what you think
THANK YOU!!!!!!
(PS… this is public forum time, PLEASE SPEAK YOUR MIND and be detailed)
(PPS…. i will have another one of these about remixes, and mashups, and requests for live show content at another time, so please keep this one on topic in regards to OFFICIAL RELEASES OF ORIGINAL CONTENT)
THANKS!!!!!
🙂
lorin
just some late night, post-party-action thoughts:
underground….
to me underground refers to an essence of attitude and perspective, a spirit of dissent mixed with inspiration, a do-it-yourself approach that bypasses traditional systems for more communal (hence more authentic) ones. And so much more. It means fearless, smart, real, true, and many other things. It can mean raw and cutting edge, even secret, even illegal. It can mean unpopular, or it can simply mean non-mainstream.
Can something underground permeate the mainstream? Can it enter it? Change it? incorporate it? Participate with it?
I think so.
Robin Hood robbed from the rich to feed the poor. He believed in a vision, an underground one, and i'm sure he often looked like he was compromising when in the end he was following his heart and serving community.
Since i began really having my own thoughts and identity as a person, i have always relished in the underground…in freaky things. In styles/genres/pheonomenon that were under the radar, sometimes frightening or obscene, sometimes violent, sometimes extreeeeeemely NON-mainstream, even anti-mainstream.
But, even with that underground spirit, i have also never looked at the world with cut and dry eyes.
There always seems to be a million different sides to a coin, multiple doorways at any pass. I do not think of myself or anything i do as mainstream. Yet i will happily enter the mainstream, just as one might enter the Matrix, on a specific mission. Somethings can't be helped (i pay a Verizon bill, god damn them, every month. Or i pump my car full of bloody oil, or i – simply by living here – contribute to the vast monolith of the American Military Industrial Complex, with pretty much any dollar i earn or spend…) but the attitude that pervades all things can…and i stay true to that. Not because i choose that, but because i am that.
I trust myself. And a lot of the "work" i am doing on my mission is so much more complex than it appears…although it may be totally fruitless, goofy, trite, or easy to tease, i BELIEVE IN SOMETHING, and i am following my heart on that path.
That alleviates me from any stupid misperceptions someone might have about me or my motives and empowers me to flow more freely on my path. That stuff is useless.
The details of these visions and intentions are too vast to sum up quickly, but it centers on a commitment to humanistic connectedness, compassion, creativity, inspiration, the pursuit of truth, the critique of reality; and reaching harder than i thought possible for the light at the end of the tunnel, and RAAAAAAAAGING against the dying of that light.
So if i end up paying Verizon each month, know 3 things:
1. I am aware of the paradox
2. I dislike it
3. I make the educated, thoughtful decision to take the lesser of two evils
And if Bassnectar does something that seems like it wasn't something you expected, HAVE A LITTLE FAITH. If we play a "mainstream" venue…its probably because we are on an outreach mission and want to tap in to an audience we couldn't otherwise reach.
I heard a lot of people complain about the show we did tonight in Colorado. It was definitely a mainstream show, and here are some of the reasons i am so happy we did it:
1. We played to a whole new audience tonight. MASSIVE!
2. We enjoyed widespread radio play, including messages about Dick Cheney ON THE AIR that i highly doubt have ever been aired before. A personal pet project of mine.
3. We connected with new people, and new crew, and more importantly, we made connections that will open doorways for bigger, crazier things like this in the future.
And is that where i see Bassnectar going? Only big, sell-out mainstream corporate bullshit shows? FUCK OFF>..no Way.
No Way.
😉
We will still play small shows, we will still do insane 3 month road tours, we will still kill it at festivals, and rage underground venues, but we also might do some wierd wedding, or a high school graduation, or a fucking street festival, or the Gay Pride Parade, or a live Jazz set at a conference for Elvis Impersonators, or the back of a truck at a protest, or the middle of nowhere with the bass knob on 11.
But it's not all about the music for me. It's about the community, and what feels like a movement. As cheesy as that might sound, that is genuinely how i look at it. This isn't a music career, this is a social experiment. And it will end at some point. And before it vanishes, it will bend and change and morph and in the meantime, TRUST ME…
Im not a wanker, i am not a sell out, i am fucking CONVICTED and i'm on the warpath. If i do something you think sounds suspicious give me the benefit of the doubt, assume i am up to some shenanigans. not just some super-simple schmuck who has no self awareness or integrity.
Earlier this year i was offered 250,000$ to play 10 shows, sponsored by an alcohol company, on a kind of corporate tour.
I didn't really even balk at the obvious objection ("oh its sponsored. by Alcohol! Oh that's so bad") because EVERYTHING is fucking sponsored. Our entire country is a cheap whore bought out to the last straw by anyone with enough money. We are so inverted and cheaply betrayed, it is an ILLUSION that you can function and make waves without navigating through these messy waters. Running off to nonstop cults of escapism won't save you…and living "off the grid" does nothing for anyone else.
Anyhow, back to my story. So i was offered all this loot, and i thought, WHAT IF, we take it, and spend the typical 5,000-10,000$ on the production of each show, and after another 30% goes to management, and the crew is paid, etc, let's say there is still 10,000$ per show. Leaving, as all you mathematicians out there know: $100,000 minimum.
So we could have kind of a community-sponsored contest of where and how to spend that money in areas that we think are important, kind of a give back mentality. Plus i bet we could have made the shows FAR MORE SAVAGE and off the hook than the corporate minds would have ever imagined.
But they passed on it, because they thought that would get too much press, and they were (UNDERSTANDABLY) doing this for promotion, not charity.
So it was bagged. But i held true to my heart.
And as for this show tonight in colorado, at a "mainstream" venue:
before this show, I had NEVER HEARD OF any of the bands playing (All American Rejects, Goldfinger, etc) …i am just not watching TV or listening to Radio, or tapped in enough to be exposed. And so when a lot of people were bitching about the lineup, i was like "huh? whats the problem"
At the end of the day, it was a wierd gig…i watched maybe 4000 people walk out in a flood when the last band played their last song. But i expected that. What i didn't expect was the 4,000 who stayed, some who were hardcore BN fans (some who drove from Chicago JUST for that set, one of whom i believe i got to quit smoking cigarettes tonight! kung-FU!), some who were like 14 or 15 year olds and had NEVER heard anything like that before, and some who were just totally caught off guard. It felt great to connect, and we had a blast.
thanks for tuning in.
So much more to come, in all shapes and all sizes
See you all in the fuuuuuuture
🙂