Cozza Frenzy Release & Fall Tour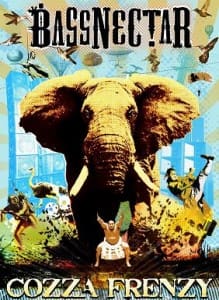 After months of planning and brainstorming, we have put together an absolute FREEEAAAAKSHOW of a tour for the fall to coincide with the next Bassnectar release, titled COZZA FRENZY. We will be coming at you live pretty much solid Fall and Winter, alongside special guests DJ Vadim, Nosaj Thing, and Heavyweight Dub Champion.
Visit the tour schedule for the full event calendar, and feel free to hop on board the merry roadshow as we travel far and wide, stirring up a ruckus and causing a frenzy.
The tour launches on October 1st and features custom-built PK-Sound System enhancements for larger-than-life audio courtesy of The Wobbly Factory. On the cultural end, we are also working with a community of activists to generate involvement in local issues that pertain to each city along the tour route. (email basscorsair(at)bassnectar.net to get involved or check out the community page online!). Also, limited presale discount tickets are available at bassnectar.net so hop to it, bassfreaks!
Stay tuned for the release of Bassnectar's debut single (3 versions of Cozza Frenzy out August 4th on iTunes) from the forthcoming album (a dozen new tracks and heaps of remixes due out on all formats October 2009) in partnership between Amorphous Music and Child's Play Records. The original version is a head-banging body-rocking anthem, where dubstep and electro collide beneath a chopped and screwed vocal courtesy of Oakland mc/vocalist Seasunz. Z-Trip's 'Hellrazor Remix' takes the original and flips it into a scratch track with loads of cuts and edits. Scratch djs and turntablists will eat this alive. Finally, Bassnectar give us his own 'mega-bass' remix – a straightforward dubstep version perfect for ripping any dance floor into complete frenzy. Hence the name…
Check out a sample:
More tracks and remix packages of all styles and genres to follow in the coming weeks, so stay tuned…
Also, tune into the podcast through the Summer for more singles and bootlegs to drop.