RRRRRRREEEECAP!!! Good gawd! The first leg of COZZA FRENZY TOUR has been BONKERS!!!! From Texas, to Alabama, to Tennessee, to Georgia, through North & South Carolina, and on to Florida, we just raized some hell and contributed to one hellava freakshow experience night after night to rammed out venues and eagerly awaiting bass-heads (and their eager eardrums).
FRENZY: Officially Caused.
Massive thanks to all attendees, supporters, the community Orgs, to the killer road crew, and to PK SOUND SYSTEM, LUMATECH, and DJ VADIM & HEAVYWEIGHT DUB CHAMPION.
MASSIVE!!!!!
While raging the tour front, the digital album wobbled its way up the iTunes charts. Thanks to everyone that supported, listened and shared!!!
As of today, the HARDCOPY CD's are available in stores, or you can grab it from our lil' shop at the Bassnectar Labs. Includes a free poster and lots of random notes and thoughts i wrote about my music and more. (mad thanks to all you hardcores who pre-ordered!!!! nutso!!)
And in addition to keeping up with a tour blog as we wandered through some of the most internet inaccessible areas of the country, got a slew of video clips coming through the pipes…. some absolutely ragin crowd shots, a little bit of backstage nonsense, and the first batch of what we hope to be many Cozza Connection videos – which highlight some of the organizations that we are working with in D.C. an Detroit. (BIG UPS CauseCast.org & Ms Holland for CRUSHING IT)
We will be posting these over the next few days, so visit http://www.youtube.com/bassnectarlabs and subscribe to the video channel.
Next Up! Halloween weekend with a quick addition to the tour schedule….
FEAR & LOATHING IN ORANGE COUNTY!!!! HAHAHAAHA
Who'd a guessed it: Halos N' Horns fest with Korn (when i was in High School we thought Korn was *so* weak, haha! Now i'm getting raised eyebrows cuz people think they're so hardcore! How times change!)
So it's kind of a metalhead DJ's ironic foray into ridiculum…a chance to right propper SWAT THA BAJEEEZUSS out of a sea of heavy metal freaks with all sorts of SMASHERS AND MASHERS!!! Custom cut this week: a whole new slew of insane remixes of Sepultura, Metallica, Pantera, Rage Against The Machine…even got som Jimi Hendrix acapellas and some sicko loops, and of course bigbang dubstep and drum&bass noiiiiiisezzzz. this will be COZZA HEADBANG, and it may never happen again. Click here to get tickets
And for Halloween night, we are off to Denver to slay a SOLD OUT Fillmore. BIG BEAR HUGS, SMOOCHES, HI-5s and TOTALLY BUGGED EYED GRATITUDE to all that grabbed tickets in advance and rammed this place out. If you weren't able to get yours in time, no worries! We've added a second set to close out Halloween night at Casselman's (remember its Daylight Savings!!). Fillmore show is THE FREAKER'S BALL MEGADOSE OF BIG BANGERS & ULTRAMAJICK. Afterparty music will be much more about just giving you a nice warm bass soup to swim in… Click here for the info.
After that… ramping up for the second leg of the tour with Nosaj Thing on board (LOVE TO DJ VADIM, HEAVYWEIGHT DUB CHAMPION & RJD2 for support as well!). Subscribe to the tour blog to keep up with the freakshow as we make our way through the Eastern, Midwest, and Northern US, as well as stops throughout those happy lands of the North, Oh Canada.
LASTLY, AND FROM THE HEART: Always remember that there are finite resources on this planet. If everything was divided up equally amongst humans, the world would look very different. Instead, 1% of humans in this country control 95% of the WEALTH of this country (That's what happens when a Wolf In Sheep's Clothing like Obama, or Our Congress, or of course Bu$h, allows a few wealthy bankers to steal 700 BILLION DOLLARS from US CITIZENS!)
That said, remember that it has ALWAYS BEEN LIKE THIS: The few rich cronies, cold hearted enough to propagate a multi-generational Control Mafia over the world's resources (be they Kings, Emperors, Lords, Popes, or Bankers) stop at nothing to keep ALL the wealth in their few hands, while the majority of humans on earth live as some for of serf or slave or maybe a joker/jester/knight (Rove, Limbaugh, O'Reilly) or a favored baron (Rich, middleclass whitecollar conservatives)…but none the less, when something like THE INTERNET comes around that lets the serfs talk amongst themselves, and share TRUTH, not LIEs (like our corporately manufactured media) it presents a potential threat to the control of The Wealthy.
That is why Net Neutrality is so important. And that is why you have to be SOOOooooo careful with Republicans*. Because they pass an act like 'CLEAR SKIES' which was misleading, and was actually written to END the environmental protection program called "THE CLEAN AIR ACT". So when John Fucking McCain recently announced that he wants to pass the "INTERNET FREEDOM" act, You Should Be Wary! The INTERNET FREEDOM act is misleading and dangerously deceptive, because it is actually designed to prevent "NET NEUTRALITY"…
As you should know, Net Neutrality is a GOOD THING. It is intended to protect equal access to the internet, and to prevent unfair corporate control of the internet. So THE INTERNET FREEDOM ACT IS BULLSHIT, because it is intended to GIVE FREEDOM TO VERIZON AND COMCAST and that's about it.
it's like making an act called "Happy Babies" that allows people to kill babies. It is literally that fuckin absurd.
COZZA FRENZY!
VIVA NET NEUTRALITY!!!!!!!!
-L
*[EDITOR's NOTE] Obviously Officials of both parties – Republicans & Democrats – are not to be trusted. Republicans just play the bad cop, so they are low-hanging fruit… just wanted to be clear, cuz The Democrats role as 'Good Cop' often lets them escape blame and they deserve a lot of it.
We are somewhere in Kansas at a biodiesel station. I'm outside in my socks, jacking a weak wireless signal, and enjoying this brief moment of sunshine. Soon it's back on the bus to drive balls out to Denver, catch a flight home for a week, and then onward to an (already) almost sold out Halloween with Conscious Alliance and the epic community extravaganzas in Detroit and DC.
This experience has been awesome for little me out of the Northwest, having only ever been to TN out of the 30-something states we're passing through. Biggest lesson learned? People are awesome everywhere. Thanks for the schooling, y'all. Although it all looks like fun and games from the crowd, the traveling life can be tough. You people are what makes it all worth it.
Carrboro killed it, had an awesome healthfood store, gorgeous pottery, and I bought the ugliest hat ever (too ugly to post on the tour blog, if you saw me in Carrboro, you know.)
Lorin's cliffnotes on Carrboro: sold out @ the Cat's Cradle: Thursdays are Fridays in Carrboro!!!!
Elliott's first night on lights, Lorin's first night playing under the influence of Tzam Tzing Tea. (I think he liked it 🙂 )
We survived and hustled down to Asheville, where it was just DIS.GUST.ING. The Orange Peel was utterly off the hook, the people were all gorgeous, the city was fantastic, and a good time was had by all.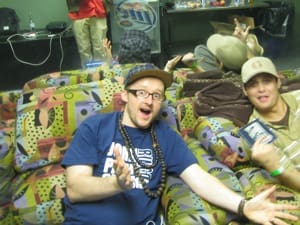 I wasn't in Miami, but the reports from Trevor make me wish I had been. Stage mobs? You people are completely bonkers.
Having DJ Vadim on the bus was completely rad. I think we scared him at first, but, as you can tell, the South soon grew on him and by Nashville he was attempting the accent (with limited results.) VADIM: we miss you, come back! Nosaj Thing has a lot to live up to for the second leg of this apeshit adventure.
Also, very special thank yous are due to Doug Fuller and Tom Lewellyn from Sustainable Living Roadshow, and Pete Moreno, our driver for the rest of the tour. These brave souls went above and beyond to get our bums hauled all over these wide, vibrant, USes of A.
So, onward, comrades, to the cookie Elliott just bought me, Denver, home, and all those little places on your body that feel the rumble when the Bassnectar crew rolls into town.
Miss Basscorsair, riding the high seas of sound and I-70 West, over and OUT!
These girls have the greatest laughs.
Meet Swathi and Megan, tonight, they have donned boxes to raise awareness about homelessness in Carrboro, and the awesome efforts they help coordinate to combat it. The organization that channels their efforts is called HOPE- Homeless Outreach Poverty Eradication. My favorite event they coordinate is Box Out, an annual fundraising/awareness event featuring live music, where people sleep outside in boxes they build together, experiencing a small part of homelessness for one night. All proceeds go to HOPE's Community Empowerment Fund, a student-run microfinance organization that allows homeless people to apply for small loans so they can get housing/employment. HOPE also has a community gardens project, a literary magazine written by people on the streets, and ample opportunity for anyone to get involved and active in the massive hardships faced by those who don't have a home.
The shenanigans of this night took shape when these gals rolled in with their lovely display and we quickly determined it to be insufficient. A quick flirt with a bartender later, I came back with some cardboard and these girls went to town. Below, I have a selection of the lovely people who supported Homeless Awareness Poverty Eradication by donning boxes….
We had to bust out a sharpie and Bassnectar a belly, wear a gas mask, and and shove some big people into some little boxes, but our mission of engagement was utterly accomplished. Want to get involved with HOPE's programs? Give a click here.
And the Bass Check has begun… Time to lunge after the albums as they shake off the table. It's like a new dance or something. The Lia-Lunge, perhaps?
Just wanted to give a holla from the awesome Charleston, SC. Where people dance like there is NO tomorrow. Seriously, I'm stoked to be sitting at ass level so as to appreciate the boogie factor more greatly.
This city treated me so well yesterday, complete with a swim in the warm Atlantic and (still not over it, I'm telling everyone) dolphins. Yes, Dolphins. I wanted to swim out to meet them, but Trevor, our audio engineer, told me there were sharks and the undertow would eat me if they didn't.
Charleston, I saw dolphins here. I love all of you, forever.
And it's the lasting kind of love because you sealed the deal by overfilling the Conscious Alliance bins AGAIN. Perhaps outdoing Athens. We, the hungry, and the volunteers are all incredibly grateful to you.
This thought occurred to me the other day when someone on Facebook asked why we don't have a food drive at every show: why don't I let you all know that you can volunteer with Conscious Alliance, feed the hungry, get volunteer hours, and go to all sorts of shows for free by starting your own chapter in your city? And then we CAN have a food drive, beautiful posters, and an even grander adventure in every city.
In University? It's even easier. You can get involved by joining or starting a student group. For more info peek at http://www.consciousalliance.org/projects.student.groups.htm or email students@consciousalliance.org
We'd love to have you at a future show doing this amazing work!

The number one topic on the minds of the staff tonight (aside from, evidently, burping contests) is whether or not that crowd outside is going to tear the door down. It's only 8, music doesn't start until 9, but gee golly and jawsh are they out there. It is, after all, Saturday Night. I hear our only competition for young, undulating bodies is a comedian on a banjo.
I have not heard the likes of the banshee cry that went up when they clicked the lock on that door since, well, last night at the height of the set. It's only doors, people. But, how can i be anything but glad about your excitement? I'm stoked when you are, and after a few more minutes of cruising the lobby in my wheeled office chair (will someone race me please?) I will definitely resemble the banshees of Charlotte themselves. It's all about that unstable look in your eye… and maybe a little bit of flyaway hair. Wild lookin', long hair, loud noises? I know someone who would be an excellent coach in those matters.
Best moment today was going out to breakfast that was burritos with Trevor Bone, our audio engineer, and the fabulous DJ Vadim. Vadim accidentally called Trevor and they both took a good minute to figure out that they were talking to each other. In fact, Vadim had to look at his phone. I have no idea what happened after I turned in early at 3 am, but I've been hearing stories and hints that I'm not allowed to blog about… Suffice it to say that Athens is one crazy city.
Athens updates: Lorin's leg is OK. He walks funny, but it's just another thing to tease him about.
And a MASSIVE THANK YOU from Conscious Alliance. This was the best food drive they'd done in Athens in a long time. The bin was overflowing and it was all because of you. So much gratitude from the Bassnectar Camp for being involved, everyone!
And speaking of involvement, awesomeness, and burritos (or, perhaps this has nothing to do with burritos…) Tonight's organization is:
The Hands On Networks are one of the most fantastic ways for people to get involved in any city, serving as a hub of different involvement opportunities across the spectrum of traditional volunteer activities. Hands On works against urban blight and gentrification, sorts food and clothing donations, connects people to community gardening opportunities. Or, rather, people who get involved with Hands On do all of those things. Hands on serves as the hub for organizations that need help and for the people who have the time, energy, and social consciousness to provide it.
Bob with Hands On is a spot-on individual, having given me a lecture on the impacts of gentrification in the local community, and what it means for Charlotte. I wish we all could be as eloquent when speaking about what we believe in.
And, surprise-surprise. Another fan, Tanner, managed to coordinate with the venue under my nose and set up a card table with stones to trade people for a dollar donation to St. Jude's Chilldren's Hospital.
He says that he bought the stones with his money as an extra incentive for people to give, and that, last night, he made $170 just asking people in a Will Call line to give a dollar. Tanner doesn't know anyone who has benefited from St. Jude's personally, but he said he just felt driven to "do his part for the amazing research that is helping so many children." Major kudos to Tanner from Bassnectar Camp. And, yes, of course we got our stone. It will sit on the merch table for the rest of the tour.
The night is young, Georgia.
And here we are, at the 40 Watt, show 4 of 5 nights in a row. Athens gave us all a sauna at load in and we are grateful for the calm before the storm, when the room is still cooler than outside (but not for long, we're about to show the world what real humidity is…) Today, we finally rescued our amp rack from the clutches of the evil UPS empire, and have the stage geared to the teeth, sound check having dumped my water bottle all over the floor.
Again.
This night is the first of four for which we are collaborating with Conscious Alliance, next up Charleston, then Asheville, and an exclusive Halloween poster for Denver (stay tuned, I haven't even seen it yet.) Jesse is busy on an art project of a portrait of his girlfriend (who, he assures us, is not actually purple) and the rest of the team are heading up the table, collecting food for the hungry in Athens.
On their table is an impressive array of posters from previous events, String Cheese to Rothbury, where awesome volunteers, artists, musicians, and event organizers have collaborated to assist local food banks during times like these when, as the back of the poster says, over 37 million Americans suffer from hunger every day and 12 million of those people are children.
And this situation is a win for absolutely everyone. Volunteers get to go to amazing shows, the hungry get fed, you get to clean out your cupboards and take home a fantastic memento of a musical experience, and the artist gets their art seen everywhere. Like here. Huge thanks goes out to Krystal Smith for painting this beautiful imagery. If you're headed out to Denver, Charleston, or Asheville, please support our efforts to feed your community!
Another one straight from the merch booth, under the dominion of Lia, in the classic style of DIRECT, just as Lorin drops his latest mashup of Boombox and the crowd of extra-gorgeous freaks and bassfiends parades by.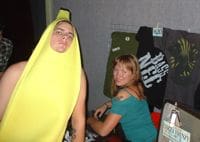 How could you not love these people, in between the guys in banana suits, the anime-esque gorgeous girls from the future, complete with massive fuzzy legwarmers and little backpacks? The number the booming bass is doing on my neck tension… I have to call this night quite fine. With the Wobble Factory, every chair is a massage chair.
The weirdest thing ever is the time change between Nashville and Knoxville, and while jetting in between with my top-notch travel buddy, we lost an hour. I don't know how to program my phone to adjust to time zones… Everything's an hour later than last night, here's hoping that puts us with a curfew of four? Nashville ran until 3:30. InSANE.
Best thing about TN hands down, including the gorgeous scenery with the leaves just starting to turn, is those who defend it. That's why we brought United Mountain Defense back for round 2, and tossed in Keep Knoxville Beautiful, because who doesn't want to?
Being a hippie in high school, one of my biggest pet peeves was always how much kids would litter. I proposed to the school administration that a crew of students go collect all the litter that kids leave in a day and shut the gates to one of the hallways, dumping all the litter inside. Teaching kids that litter is nasty, every little bit contributes to a gross problem, and that it's a massive inconvenience for us all. Don't get me started on my ideas for making kids recycle… hot pokers, anyone?
Anyway, Keep Knoxville Beautiful shares the frustration but adds common sense to the equation with educational programs and collaborations across the board, starting with feel-good school programs and spanning out into the stratosphere of collaborations with architects, artists, and events seeking to encourage their attendees to get green and conscious, tracing the responsibility for our waste back to the real source- you and me. And when the problem is us, we are 100% empowered to fix it.
United Mountain Defense (again, but we love them!)
Today, I met Bonnie with United Mountain Defense. As I've already given y'all the lowdown on my last blog I figure it'd be best to talk specifics, because (1) it's more fun to meet the people actually effecting change and (2) Bonnie is completely righteous.
Bonnie works with United Mountain Defense because of the gaggle of budding concerned citizens she teaches at a local middle school. After the TVA disaster this past year (which happened just 40 miles away from Knoxville) the kids had a lot of questions. Bonnie found the answers and got passionate about the issue in the process. Her kids did a study of the life cycle of coal, hosted events to show videos about the issue, and waged letter writing campaigns against coal powered plants. These projects are what brought Bonnie to the Bassnectar show tonight, seeking to empower others to protect their communities from coal.
UMD does outreach at other events like this as well, building a mock appalacian porch at Bonaroo, campaigning at Camp Reggae. They are seeking people who like shadow puppet theatre, actors, artists, web monkeys, and musicians to create an educational experience for all those who coal impacts (ie everyone.)
Want to get involved now?
Saturday October 10th is TN Wild Mountains Day. And if you've never had a good excuse to go to Dollywood, here's your chance! They are hosting a press event where everyone is invited to come speak about why they love mountains and don't want them blown up. Good deal. Never thought I'd say this one, but Viva Dolly Parton.
On that note, I think I will melt back into the night…