Bassnectar at 2010 Ultra Music Festival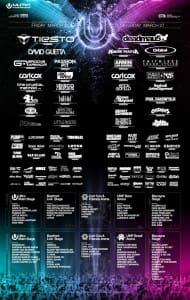 Bassnectar's Spring festival tour wobbles through Miami, FL for a special performance at the Biscayne Stage at the Ultra Music Festival during the Winter Music Conference on Saturday, March 27, 2010.
SET TIME: 8:45 PM
Other artists for the night include Deadmau5, Orbital, Faithless, Above & Beyond, Crookers, Bloody Beatroots, Ghostland Observatory, ATrak, Calvin Harris, Diplo, Rusko, Benga, and Major Lazer.
Visit Ultramusicfestival.com for the festival guide, including the full line-up for the two-day festival.