New EP finished + MORE Fall Dates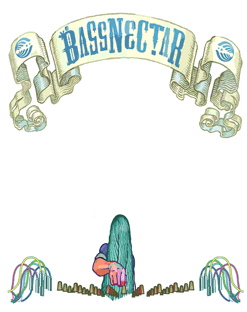 Ahoy Bass Heads! After this banana-brain mad dash of Burningman, Nocturnal and Electric Zoo, we have capped off the summer festival season with a bang! Thanks once again to all the awesome people who came out and made themselves a part of each incredible experience. This was the craziest summer so far, and now it is time for Fall Tour!!!!
This week i finished the latest Bassnectar EP, 'Wildstyle' which is the most bonkers collection of music i've ever created. Each song was crafted with you in mind, and how your body and soul will be affected when the waves of this music are crashing through your cells. We will have more info soon with regards to release, but it will definitely become centerpiece of the fall soundtrack.
Today we have even more dates to toss onto the heaping tour schedule:
Our East coast run will be topped off by a total rager at New York's Terminal 5; our largest show in NYC to date, and a perfect follow up to the insanity of Electric Zoo & Camp Bisco! Also we have special guests Beats Antique along for the ride to round out the musical styles!
Click for Tickets.

After the US tour wraps up, we are heading up north to our dear friends in Canada. The freakshow will come a-rollin' through Calgary, Edmonton, Castelgar, Kelowna, Vancouver, and Victoria!!! This is an annual affair, and always an awesome experience.
Finally, the California Bass Heads will get a massive dose at our home coming party at the Fox Theatre in Oakland, CA. Tickets go on sale Thursday September 16th.
We will be announcing New Years Eve plans shortly, but since it is not in California this year we wanted to make sure to prepare a special event to bring everyone together in the Bay Area to rock the foundations of that epic venue!!!!
Love,
Lorin