Bassnectar Winter Tour Dates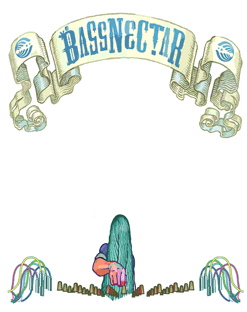 Greetings All!
We've got news for the West Coast Tour, the first lineup announce for Bass Center, and some dates for the South!
Do read on…
WEST COAST!
Just in time for tickets to go on sale, we would like to announce our support acts for all dates from Petaluma up through Seattle: trans-cultural anarchist percussion freak FILASTINE and hip hop tech-step bass maven SUPER DRE!!! We are excited to craft a rich sonic journey each night and these 2 eclectic musicians will do the triiiiiick. 😉
After a few days of recovery, we head to my home town Santa Cruz Civic Center (the legendary scene of countless late night events back in the 1990's) for a full throttle bass explosion on Thursday, February 10. Then, we follow up with two nights in lovely Lake Tahoe! This will be our WINTER DOUBLE WHAMMY!!!! A 2 night weekend snow & ski spectacular with special events and afterparties. Both Bassnectar shows at Tahoe's epic MONTBLEU feature a diverse line up with Friday Night presented by EL CIRCO and Saturday Night presented by NEXUS. Details on afterparties, travel packages, and ski passes will be announced soon!
Did we mention tickets are about to go on sale?
ADVANCE BASSNECTAR.NET TICKETS GO ON SALE FRIDAY DECEMBER 3, 2010 at 9:00AM PST

(note that these tickets are OPEN TO ANYONE AND EVERYONE to purchase, you do not need to be a member of a fan club or any other highfalutin social institution to buy these tickets, they are just a small amount of tickets we are allowed to sell direct, without the fees associated with large-scale ticketing companies)
Regular tickets go on sale a week later.
Tour dates and current ticket links are always listed at www.bassnectar.net/tour
BASS CENTER 2
First Round Line-up Announcing The Glitch Mob & Ana Sia
Plans are underway for the second Bass Center gathering!!! We are all busily developing this concept of regional mini-festival special events for Bass Heads far and wide. Although part of the fun with any creative endeavor is watching it evolve and change, currently there are no rules or guidelines other than to make an extra-special Bassnectar event and try to outdo ourselves each time.
While there is so much value in small intimate events, there is a unique energy to large-scale, full-throttle experiences as well; the whole team can get extra creative with multimedia and new ideas so we can bring in lots of extra production and special effects that are usually not possible at a normal show. In addition to being able to build the craziest sound system possible, we also get to compile a musical lineup that is as amorphous as possible. Musically we want to build a journey throughout the entire night, featuring sounds and artists that are rich and heavy, but also creative, unique, and diverse. For BASS CENTER 2, we are hyped to bring The Glitch Mob & Ana Sia (some of our best friends from California) along for the ride!!!
Stay tuned for more details…
AND……. THE SOUTH
Did you think that winter tour stopped in North Carolina's SMASHEVILLE?
Think again!
After BASS CENTER 2, we head deeper south:
02.22.11 OXFORD, MS @ THE LYRIC
02.23.11 TUSCALOOSA, AL @ THE DIXIE
02.24.11 MEMPHIS, TN @ MINGLEWOOD
02.25.11 FAYETTEVILLE, AR @ FAYETTEVILLE TOWN CENTER
02.26.11 KANSAS CITY, MO @ MIDLAND THEATER
Event listings and ticket links are at https://www.bassnectar.net/tour
Spread the word!
That's all for now. Stay tuned and enjoy life!