EUROPEAN TOUR INFO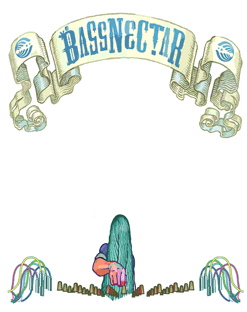 Hello Bass Heads!
I remember years ago, the thought of playing a show in Europe felt like a Pilgrimage. When my agent started sending me to places like Arkansas on a Teusday and Tennessee on a Wednesday, I threw a fit. In my mind electronic music belonged in international meccas of prestige like London, Paris, Tokyo, New York. Not random spots in middle America where nobody even listens to electronic music.
But after a lot of international touring in 2002 and 2003 I had lost interest in an unlimited scope of travel, and I wanted to focus on building a deeper, more fanatic network locally. I began gravitating towards the idea of bringing the music to places where it did not exist previously, and kind of forging a path for bass music here in the states.
This was after the rave scene of the 1990's had dissolved (or been extinguished) and i never expected to find such open arms scattered in essentially every American town I visited. So now after over 10 years of hardcore touring stateside, the number of bass heads is larger and more intense than I ever would have imagined. The shows are beyond a 'rave' and something more like an experience, and I am utterly stunned and grateful to continue taking this space ship deeper and deeper into the unkown.

But we figured, why not go back to Europe… I haven't played in London since a night with Freq Nasty back in 2004 (or 2003?) since the schedule over here got so jam-packed.
This is exciting for several reasons; in part because it is a chance to explore fresh ears, and to delve much deeper into both the CLASSICs in my record box, and the baaaaangers that i have been rinsing over here. But also some of the shows over there are a whole different ball game… tiny-ass little rooms like I used to play regularly on stateside tours years and years ago.
While I do not mind the huge venues and huge stages over here, I do miss the impeccable freakishness of a low ceiling and a room, a bat-shit crazy crowd bouncing off the walls, and the feeling of borderline panic as the room apears to burst at the seams.
These next few days were supposed to be time off after the US shows, to prep for Canada, but we thought instead we would sail over the seas and rock some euro-bass-heads… If you have any good buddies over there, let them know the details:
=============================
NOV 12: @ FABRIC in LONDON, UK

Alongside The Scratch Perverts, Andy C, Doctor P, Rusko, etc
I play @ 3:30 after Doctor P
NOV 13: @ INSTITUTE in BIRMINGHAM, UK

Alongside Andy C, Doctor P, and Hatcha
I play @ 12:30
NOV 16: @ TUESDAY CLUB in SHEFFIELD, UK

Alongside Sub Focus!
I play @ 12:00
NOV 17: @ RETRO BAR BASEMENT in MANCHESTER, UK
NOV 18: @ IFOR BACH in CARDIFF, UK
NOV 19: @ CRAWDADDY in DUBLIN, IR
NOV 20: @ CAFE LEOPOLD in VIENNA, AT
=============================
Looking forward to the travels ahead!
When we get back from overseas, we collide headlong with Canada
CALGARY SOLD OUT OF ALL TICKETS for Friday Night, so we added a second night on Thursday @ the same venue (Flames Central)
And the final California show of the year @ Oakland's Fox Theatre is a few tickets away from being completely sold out of tickets, so jump on it if you wanna be there.
🙂
Thanks again for all the love and support!