Spring Tour Dates Now on Sale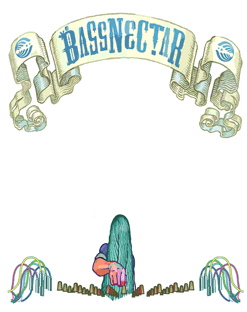 The Bass Elves have been busy booking shows for our Spring run, and we are rolling out the first round of dates this evening. Bassnectar has been on the receiving end of so much support this year, all I can say is that we are grateful and look forward to giving back even more in 2011!
WINTER TOUR
For those of you who are planning on hitting our Winter Tour or Bass Center 2, be advised that tickets are rolling out like an avalanche and Petaluma has already sold out! Get your tickets quickly, as scalpers deserve nothing but a lump of coal.
Get tickets from the tour page.
SPRING TOUR
And here are the new dates, with tickets going on sale Wednesday, December 15th!
ADVANCE BASSNECTAR.NET TICKETS ON SALE WED 12/15
REGULAR TICKETS ON SALE OVER THE FOLLOWING WEEKEND

WED 04/06/11 TULSA, OK
CAIN'S BALLROOM
THU 04/07/11 OMAHA, NE
SOKOL UNDERGROUND
FRI 04/08/11 MADISON, WI
ORPHEUM THEATER
SAT 04/09/11 ST LOUIS, MO
THE PAGEANT
TUE 04/12/11 KALAMAZOO, MI
STATE THEATER
WED 04/13/11 COVINGTON, KY
THE MADISON THEATER
FRI 04/15/11 PITTSBURGH, PA
AE STAGE INDOORS
SAT 04/16/11 ATLANTIC CITY, NJ
SHOWBOAT HOUSE OF BLUES
WED 04/20/11 SOMEWHERE, NEW ENGLAND
IN A CLOUD OF SMOKE
THU 04/21/11 ALBANY, NY
THE ARMORY
FRI 04/22/11 BOSTON, MA
HOUSE OF BLUES
SAT 04/23/11 PORTLAND, ME
STATE THEATER