BIRMINGHAM, BURLINGTON, AND AUSTRALIA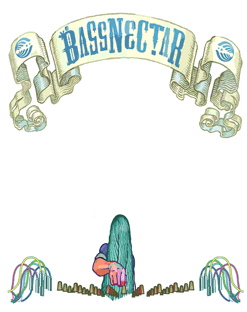 We are deep in the developing phases for another year of adventures in the evolution of Bassnectar and the crazy unfolding community of bass culture. Thanks again to each and every one of you who has continued to contribute to this ever growing experiment! We have some New Years photos HERE and a brand new NYE video over HERE.
Below we've got some SUPPORT announcements for Winter Tour, Bass Center 2/Ambassador Crew AUDITIONS, and MORE DATES.
We're excited to roll out our first announcement of support acts for our Winter Run:
Petaluma, Eureka, Eugene, Portland, Seattle
These shows will feature the skills of FILASTINE, a global nomad who specializes in combining traditional world music styles with what basically amounts to sonic anarchy. The result is a very percussive, very explosive journey of creativity. Additionally, we are bringing SuperDre on the wild road: constantly dazzling us with her deft hybrid of techno, electro, hip hop, and general bass-ness.
Santa Cruz
The creator of the word and concept "Bassnectar" and one of my personal guides and DJ gurus, he goes by the moniker BROTHER and his sets are very intentional sonic journeys. Buckle UP! Also on board, a staple of the Santa Cruz community since I moved there at the tender age of 19, the Raindance head honcho and all around vinyl junkie: LITTLE JOHN.
Lake Tahoe Winter Double Whammy
We decided to blow out Lake Tahoe with back to back nights: Friday Night features EL CIRCO DJs SHAWNA & LAURA (both purveyors of eclectic dance music with beat spectrums that span electro glitch hip hop world fusion house and everything in between), and Saturday Night features NEXUS DJs MR PROJECTILE & STRYDAH (both long term Bassnectar collaborators skilled in the science of deeply penetrating emotional sound).
Oxford, Memphis, Fayetteville, Kansas City, Birmingham
Moving on from Bass Center, we decided to fulfill one of my life dreams which is to be back on tour with the original "D.S.H." known as ANA SIA. Currently on a real-time mission of exploration and experimentation, you will get to experience the new styles she is inventing as she blends futuristic styles with extremely detailed tribal rhythms.
Albany and Burlington
We will be joined by longterm friends and spacemen EOTO: improv pioneers who constantly keep the whippersnappers in check with their RELENTLESS touring, punk rock DIY mentality, and ability to drum doper and crush harder than anyone out there with totally live on-the-spot creations.
SPRING SUPPORT:
Throughout the midwest we will once again be joined by the eclectic and artful sounds of ESKMO, and moving into New England we will have ELIOT LIPP in tow.
BASS CENTER 2 – 2/19 Asheville, NC
Of course you know that these are our home-made special events, and this is the second one. In addition to an extra large venue, and extra large crowd, and a bunch of heavy duty extras (lights, sound, fancy fancy line-ups, etc) these gatherings are designed to be exactly how I *WISH* every show was: back in the old school days, I used to venture around a venue and spend a large amount of my time just meeting new people, and socializing, and making it a personal mission to help brighten people's day in creative ways. We want to invite everyone in attendance to do a bit of this, and we are searching for a few people who feel ready to basically come and devote their full time to doing this @ Bass Center 2. This means we are looking for ambassadors who want to help make the event their own, and spend a lot of creative time carefully improving the experience for everyone else:
The AMBASSADOR AUDITIONS launch on Facebook NOW! If you want to get behind the scenes and work a crew at Bass Center 2, post up your audition to the Bassnectar Facebook Wall. It can be photo, video, or text, all telling us why you would be the best responsible, SOBER, outgoing, motivated, spontaneous, and energetic person to make the Bass Center BOOM. Also, get your friends to post testimonials. The more, the merrier! Hit it! Auditions end Tuesday, Jan 25th at high noon, EST.
SIDENOTE: Bass Center tickets are moving QUICKLY. You can grab yours now by clicking HERE.
AUSTRALIA, NEW ZEALAND, BIRMINGHAM, COLORADO, BURLINGTON, WAKARUSA, AND SUMMER CAMP: WE ARE ABOUT TO BRAINWASH YOUR FACES……
Birmingham, AL WED 2/23/11
Our plans for bringing the bass back to Tuscaloosa were foiled when the venue we were planning on unexpectedly shut down. Thankfully we have secured an amazing spot close by, in the bass-heavy lands of Birmingham. We are taking it up a notch since the venue is larger, so if you are in the dirty south, git reddy for a road trip!!! ADVANCE ONSALE- 1/12/11 at 9:00am EST
Burlington, VT WED 4/20/11
4/20 at Memorial Auditorium. This is the only place we could find that will fit the madness we will be bringing. This is an early show, and we have an extra large dose of music for you by ramming full Bassnectar & EOTO sets into the building. Also we have a limited number of $22.00 early bird fan tickets available while they last… ADVANCE ONSALE- 1/12/11 at 9:00am EST
SAT 03/05/11 VAIL, CO
SNOW BALL FESTIVAL
WED 03/16/11 PERTH, WESTERN AUSTRALIA
SHAPE BAR
THU 03/17/11 BRISBANE, QUEENSLAND
BAR SOMA
FRI 03/18/11 SYDNEY, NEW SOUTH WALES
CHINESE LAUNDRY *late night set
SAT 03/19/11 BASIN RESERVE, WELLINGTON, NEW ZEALAND
SUMMERSET FESTIVAL
WED 03/23/11 AUCKLAND, NEW ZEALAND
FU BAR
THU 03/24/11 CHRISTCHURCH, NEW ZEALAND
THE BEDFORD
FRI 03/25/11 CANBERRA, ACT AUSTRALIA
THE CLUB HOUSE
SAT 03/26/11 MELBOURNE, VICTORIA AUSTRALIA
NEVERLAND
SUN 05/29/11 CHILLICOTHE, IL
SUMMER CAMP FESTIVAL
FRI 06/03/11 OZARK, AR
WAKARUSA
Best Wishes for 2011!!!!!
L