Fan Bass: The Bassnectar Vaults
The questions for our Fan Bass section keep rolling in – and from personal politics to metaphysical pondering, you are leaving no stone unturned. So in an effort to keep up with you curious types, here's another answer direct from Planet Lorin. Click here to submit your own question, and free to add comments or questions about this post below. More answers are on the way!
QUESTION:
Why don't you play more of your older material? Your older stuff seems softer and more melodic, do you miss performing the classics like Kyrian Bee Bop, Pleasure the Bassnympho, Agent Squish etc.?
Bhaley

=====================
There are several good questions here.
I do actually play a lot of older material (some of it has never been released, and will always be saved special for live shows) …both in its original form, and remixed and re-tweaked. Each set contains a lot of specially placed samples, loops or songs from my ever expanding 'box of classics' and includes thousands of rare records and long-forgotten jams from years ago. Mashing them up with new material is a succulent thrill.
In terms of qualitatively defining my "older material" …that is a difficult task. I would contend that a lot of my older music *WAS* hella grinding and intense (Pleasure the Bassnympho is a great example…even Kyrian Bee Bop was dubstep before there was "dubstep" as we now know it) …and a lot of it was indeed deeper, more melodic, even softer (Laughter Crescendo or my remix of Skin on the Drum) while much of it basically was a complimentary response to whatever I was hearing at the time. By combining musical influences and taking them into new directions they wouldn't have otherwise gone, I was able to create very unique and meaningful sounds that still fit in with music my friends were making, and music by other artists. Today, I still love creating deep, emotional music (Underwater or Time Stretch or Fun With Synthesizers or my remixes of Fever Ray, Ellie Goulding, etc) and will continue to do so.
But the live experience has definitely increased in intensity, and a large part of that is simply a reflection of the amount of people crammed into each room, and the character of each person. Live music (even a DJ set) is all about interacting with a crowd, reflecting their energy or personalities back into the room.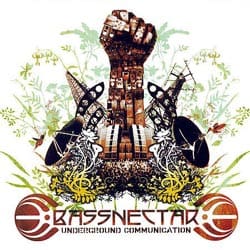 My sets are always a voyage, and I always span the spectrum between dark & light, between hard & soft, and between ugly & beautiful. Each set includes moments of filth, darkness, and intensity, as well as emotional, hypnotic, surreal sections, and everything in between. The sets are long, and I usually include a meltdown section towards the end, where I reach back into the old record crates and pull out super beautiful stuff. This doesn't happen as easily at festivals where the set times are shorter, and there is tons of sound bleed from other stages. But when I can focus on a proper set, I don't feel complete without exploring some deep sections, full of classics and throwbacks.
In addition to constantly reworking and remixing my older material, I also include it in my sets. But as the volume of my music grows (as well as music I love, and amazing new records and sounds and ideas) the "older" stuff inevitably becomes more rare. But that just makes it even more special.
🙂