NEW TOUR DATES, SUMMER VIDEO AND MORE
Greetings Bass Heads!
We are proud to announce the kickoff of our 2011 Divergent Spectrum Fall Tour! The biggest tour thus far, the one tour to rule them all, the Tourminator. If your crew is already planning on mobbing to the event, and you haven't bought tickets yet, we recommend you get them quickly! Our Spring Tour was a part of 78 sold out events in a row (THANK YOU FROM THE BOTTOM OF OUR HEARTS FOR THAT!) and we want to avoid die-hard bass heads having to deal with scalped tickets.
If you want to see when we are coming to a town near you, CHECK OUT THE TOUR PAGE.

To add to the hoopla, we are announcing additional dates for November!
11/18 – Vancouver, BC
@ PNE Forum
GET TICKETS / MORE INFO
11/19 – Calgary, AB
@ Big Four Building at Stampede Park
GET TICKETS / MORE INFO
11/25 – Montreal, QB
@ Metropolis
GET TICKETS / MORE INFO
11/26 – Plymouth, MI
@ Compuware Arena
GET TICKETS / MORE INFO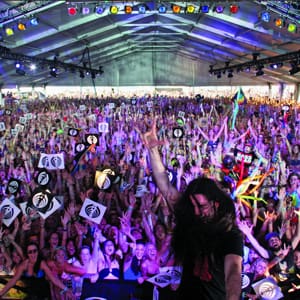 Can you bring a sombrero or a tutu? What about a picnic basket? What to do in the security line? What's the plan for next level family photos? How to make this event YOURS and become a part of this immersive experience: If you are planning on participating, we have some required reading for you… Here is your 2011 Divergent Spectrum Tour survival guide!
And now that you're hyped, we're bringing the whole parade into Freakout Mode with some epic eye candy… From the islands of NYC to some really big Red Rocks, here's Bassnectar's 2011 summer festival recap! Watch it and weep for the times that have passed, and those times that are yet to come…

So what are the biggest events for the 2011 Divergent Spectrum Fall Tour, you ask? BASS CENTERS!
We missed Burning Man this year, but we're bringing it back home to the Bay full force on Sept 17 for Bass Center III. Thousands of freaks, old friends and new heads will converge to create a raucous spectacle of music, art and community in the heart of San Francisco on Sept 17th. Come decompress Bassnectar-style.
BASS CENTER III TICKETS / MORE INFO
And we've just added Z-Trip and Big Gigantic to Bass Center IV in Washington DC! As this extravaganza draws closer, we will have more info to share.
BASS CENTER IV TICKETS / MORE INFO
We're trucking it from East to West for 2 of our biggest shows of the year in one week. WOOSH! Life is a wild ride. If you want to get more involved at these Bass Center events as an Ambassador, please check out our audition process HERE.

Last but not least, our Dollar Per Bass Head voting program is in full swing. We have raised a lot of money with you this year to give to charity, and are going to donate $50,000 to several amazing organizations.
We want YOU to choose where the dollar from your ticket goes. Please check out these organizations that are close to our hearts and inspire our minds and vote for the organization that sparks you the brightest!
All for now!
Lorin & Bassnectar Crew