RESIDENT EVIL: RETRIBUTION – CHINO MORENO COLLABORATION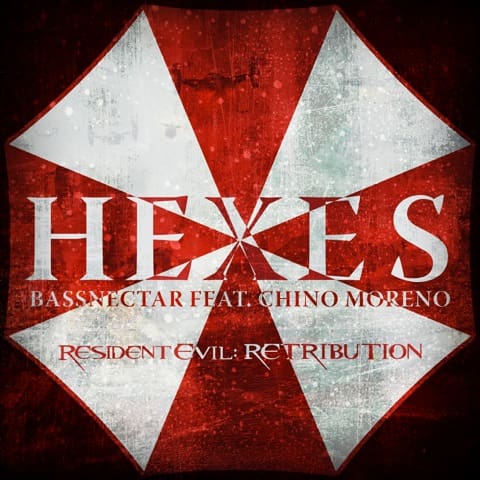 For those of you out there who enjoy the dark side of music, here's my "Hexes" track for the new "Resident Evil: Retribution" movie, made with one of my favorite singers alive, Chino Moreno of The Deftones [big ups Chino]!!
I was thrilled to be a part of scoring this, and wanted to make a beat that dropped like a wall of bricks to knock people back in their seats at the movie's sudden and dramatic end. Chino put together the lyrics in a poem that felt like a slow motion dream, and somehow the two sensations works in tandem: falling backwards in a dream while getting blown back by a wobbling wall of sound.
CLICK HERE TO GET "HEXES" VIA ITUNES
FALL TOUR 2012 – ON SALE NOW:
09/27/12 – Greensboro, NC – Greensboro Coliseum
09/28/12 – Fairburn, GA – CounterPoint Fest
09/29/12 – Baton Rouge, LA – Sugarcane Village
10/03/12 – Columbus, OH – Lifestyle Pavilion
10/04/12 – Bloomington, IL – U.S. Cellular Coliseum
10/05/12 – Lawrence, KS – Burcham Park
10/06/12 – Saint Louis, MO – Bass Center VII
10/08/12 – Jackson, MS – Jackson Convention Complex
10/10/12 – Little Rock, AR – Riverfest Amphitheatre
10/11/12 – Tulsa, OK – Tulsa Convention Center
10/12/12 – Austin, TX – Austin Music Hall
10/13/12 – Austin, TX – Austin City Limits Festival
10/17/12 – Tempe, AZ – Marquee Theatre
10/18/12 – Los Angeles, CA – The Palladium
10/19/12 – Secret TBA
10/20/12 – San Francisco, CA – Bill Graham Civic Auditorium
10/24/12 – Reno, NV – Summit Pavilion @ Grand Sierra Resort
10/25/12 – Boise, ID – Revolution Center
10/26/12 – Portland, OR – Memorial Coliseum @ Rose Quarter
10/27/12 – Vancouver, BC – Doug Mitchell Thunderbird Sports Centre
10/31/12 – Calgary, AB – Big Four Building @ Stampede Park
11/02/12 – Fargo, ND – Concert Hall @ The Venue
11/03/12 – Minneapolis, MN – Target Center
11/05/12 – Pittsburgh, PA – Stage AE
11/07/12 – Detroit, MI – The Fillmore
11/08/12 – Detroit, MI – The Fillmore
11/10/12 – Toronto, ON – Sound Academy
11/11/12 – Montreal, QC – Metropolis
11/14/12 – Portland, ME – Cumberland Civic Center
11/15/12 – Amherst, MA – Mullins Center
11/16/12 – Montclair, NJ – Wellmont Theater
11/17/12 – New York, NY – Terminal 5 – SOLD OUT
11/18/12 – New York, NY – Terminal 5