BASS CENTER 2016 RECAP
What a magical weekend!!!
Thanks to all the musicians who brought the noise, the visual artists who blew our minds, and to all our crew who worked tirelessly for months to make this all happen. And most of all THANK YOU to each and every bass head who turned up and made Bass Center 2016 our biggest and brightest event to date, with nearly 50k attendees over the course of the sold-out weekend!!!
You shone so very bright, and everyone we teamed up with for this event commented on how inspiring our community is: witnessing random acts of kindness; seeing how you take care and look out for each other; watching strangers be welcomed by new friends with open arms – you did a great job promoting the values that we are all about. Walking around the campgrounds at night, witnessing the amazingly friendly & positive vibe in the crowd, we are in awe of you and so grateful to have such an amazing community!!!
That's not to mention that once the music stopped both nights, many of you stayed back and tidied the entire stadium floor, leaving it spotless, as well as doing a stellar job cleaning up the campground at the weekend's end. The AFTER photos look like BEFORE photos! 🙂
These bass head cleanups have been happening at many of the other festivals we attend, and that is fantastic. Leave it like you found it!

[Above: The sparkling clean Stadium & Campsite after the event!]
A HUGE thanks is also due to our amazing Ambassadors and the Bass Network, who truly went above and beyond to make this a weekend of happy surprises and magical moments. Organizing meetups, parades, art installations, and checking in on fans inside the arena and out, they brought an extra dimension to every aspect of the event.
[Above: Bass Head Meetup hosted by the Ambassadors / Bringing mist to the people!]
And that's in addition to the core duties that have been the foundation of the Ambassador program: keeping people hydrated throughout the day and night, providing free earplugs and spreading awareness about ear safety, and helping any and all bass heads in need. Several members of the squad even turned up the night before and took a CPR certification course so they could be as well-prepared as possible.
[Above: Ambassador Group Photo / Taking a CPR course before the event]
Another big success was the introduction of The Haven, a sanctuary inside the stadium where wanderers can unwind and take a break from the intensity. It also acted as the base-of-operations for Ambassadors inside the venue, who were connecting with fans, handing out gifts & treats, activating art projects, leading meditative activities, and generally helping people to relax, get comfortable and take a break from the heat. I stopped by to say hello and just LOVED the vibe in there. This will definitely be a feature of Bassnectar productions moving forward 🙂
Our multimedia team unveiled dozens of new all-original works, including collaborations with visual artists and directors from all over the world. Along with state of the art lights & lasers, unparalleled immersive sound, and live performances from some of the most incredible musical acts [Wu-Tang Clan, Flux Pavillion, Lupe Fiasco, Porter Robinson, Flying Lotus, AlunaGeorge, G Jones, Minnesota, Thriftworks, and a TON of incredible artists at the afterparties & late nights] we also premiered many new official visuals for the Unlimited Album and contributions from visual maestros like Nick Thomm, David Dutton, Sebastian Wahl, Acid House, Black Lake, Tom Geraedts, Melt Creative, Black Lake, Noah Freeman, Krista Augius and many more!
[Above: Premiering the "Journey To The Center" video by Sebastian Wahl & Black Lake / Crywolf performing a live cameo Friday Night]
With your help, our nonprofit partners made some great strides: Conscious Alliance collected enough food donations to provide 1,200 meals to families in impoverished communities around the country. And our Bass Network donation drive benefiting the Denver Public Schools Foundation collected several van-loads of school supplies which will primarily go to 14 of the highest needs schools in the Denver area. These supplies are being distributed to students literally as we speak!
Big love to everyone who brought donations for these efforts – it is so important that we find ways to harness the energy of these events to give back to the communities that welcome us. Colorado is such a big part of the Bassnectar community and we are proud to work with these inspiring local organizations.
[Above: Supplies donated for the Denver Public Schools Foundation]
In addition to our donation drives, we had a dozen other partners who activated bass heads and raised awareness for their causes with their presence at the event. Reverb engaged thousands of fans in support of sustainability causes, and through distribution of reusable Nalgene flasks they helped prevent the us of over 20,000 disposable plastic water bottles. See a full list of our nonprofit partners below and hit the links to learn more.
And as always, we raised $1 from every ticket sold for our Dollar Per Bass Head charity fund, which goes towards causes close to our hearts, and yours. We just wrapped up the latest round of donations, and based on your votes we are allocating $50k in funds to the below orgs. This money was all raised by YOU through your ticket purchases: thank you for contributing to these special causes. We will have another round of voting soon. If you would like to nominate a nonprofit, leave a comment below!
Inspire USA / Reach Out – $20,000
Khan Academy – $15,000
Democracy Now – $5,000
Electronic Frontier Foundation – $5,000
The Representation Project – $5,000
Massive thanks to our hosts at the stadium and their awesome staff, and all our hosts and neighbors in Commerce City and Denver. And of course much love and gratitude to all the police, fire, and emergency services teams that helped make sure we had a safe and secure weekend together. We had numerous shout outs from the head of site OPs, and even the mayor: it made us all extremely proud of how positive the crowd was, and how *GOOD* the vibe felt! Thank you all again for bringing it soooooooooo good 🙂
A shout out to our new friends at Denver Open Media, who broadcast from the event live online and over the airwaves on KOMF 104.7FM, with programming through the day/night including interviews with artists, exclusive mixes, and important health and safety reminders. What a treat to have our very own radio station for the weekend! A great service for everyone at the event, and hopefully we reached some new listeners out there too. Come down next time and check us out 🙂
And it was most cool to meet all our Golden Ticket winners from our contest way back in those distant days of 2015 when we announced the event. What a lovely bunch: we were honored to be your Willy Wonka for the weekend!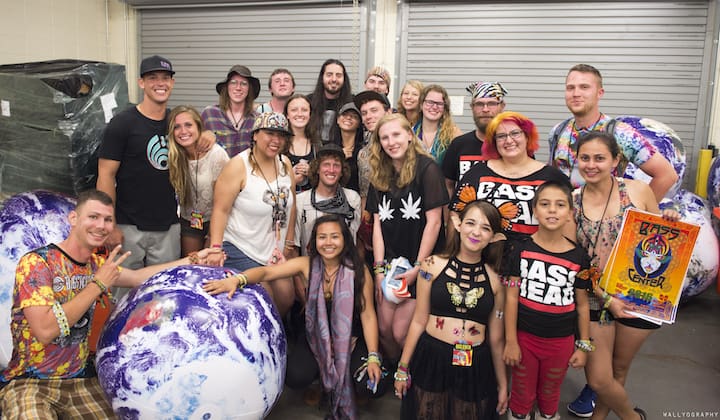 [Above: Golden Ticket winners unite!]
So, a final THANKS again to one and all!!! This community is one of a kind, and we are filled with inspiration to continue taking these events to the next level and beyond – see you next time!
[Above: Family Photo Night 1 & 2]
Bass Center 2016 Nonprofit Partners
REVERB – Engaging musicians and their fans to take action toward a more sustainable future.
Conscious Alliance – Feeding the hungry through organized food drives at music and sports events.
Love Hope Strength Foundation – Saving lives, one concert at a time.
HeadCount – Working with musicians to promote participation in democracy.
Rock the Earth – Protecting and defending natural resources through partnerships with the music industry.
Sierra Club – Rocky Mountain Chapter – A chapter of America's largest and most influential grass roots environmental organization.
Denver Public Schools Foundation – Generating resources, building relationships and championing public education in Denver.
Green Up Our Schools – Supporting elementary school waste reduction & recycling programs.
Conservation Colorado – Protecting Colorado's environment and quality of life by mobilizing people and electing conservation-minded policymakers.
Eco-Cycle – A nonprofit recycling center building zero waste communities.
The Wilderness Society – Protecting wilderness and inspiring Americans to care for our natural places.
Defend Our Future – challenging you to take small, but substantive actions to solve climate.