FREESTYLE SESSIONS RETURNS!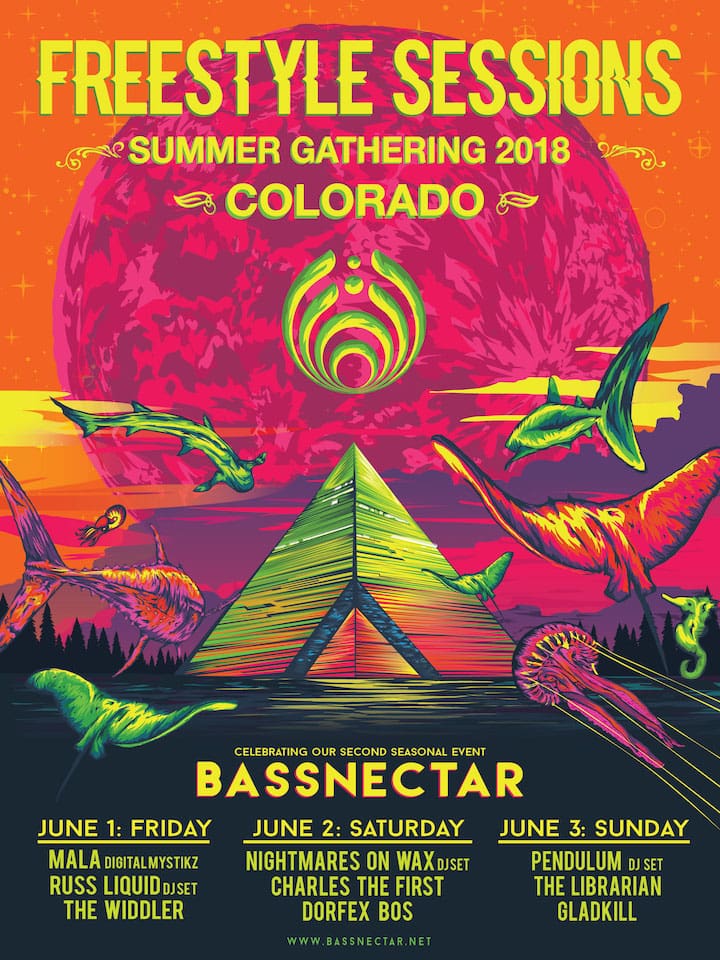 Freestyle Sessions: Summer Gathering
June 1st, 2nd, 3rd – 2018
We are bringing the Freestyle Sessions back to Colorado! Join us at the 1stBank Center for our Summer Gathering 2018 with three insane nights of deep sonic exploration! Last year's experiment was a specially themed trilogy featuring gobs of creative genre-mashing with countless throwbacks, rare versions, and the perfect blend of old school and new school. This year the themes will again be Freestyle, Dreamtempo & Wildstyle, and our lineup is custom cut to fit the bill. In addition to a full-power bassnectar set each night will be guided by the likes of:
FRI 6/1: Mala (Digital Mystikz) • Russ Liquid dj set • The Widdler
SAT 6/2: Nightmares on Wax • CharlesTheFirst • Dorfex Bos
SUN 6/3: Pendulum dj set • The Librarian • Gladkill
Tickets on sale now!

TICKETS ARE SOLD OUT – THANK YOU COLORADO!

This event is 18+ and all tickets are totally GA.
This means it's first come, first serve, so plan to show up early!
Floor wristbands will be distributed at the entrance until capacity is reached. Please keep in mind: the parking lots open at 3pm, and the venue doors open at 6:30pm – we ask you to be respectful of these times and not show up any earlier. But of course when you arrive bring the good vibes and gifts to share with friends! Help us bring you the experience you deserve! THANK YOU!!
We are also offering 100 x 3-night VIP tickets.
The VIP Experience includes:
> One VIP Ticket to the Colorado Summer Gathering
> Limited Edition Poster
> Early Entry
> Exclusive space inside the venue (inc seating area in the bowl)
REMINDER: If you're looking to carpool, join in on a hotel room, or split a rental, you can find other Bass Heads looking for the same in the Ride Shares & BassBNB group: https://www.facebook.com/groups/BassBnB

Doors open at 6:30pm (6pm on Sunday)
Allowed Items:
> Single pocket CamelBak-style hydration pack (hydration bladder must be removable, transparent, and empty upon entry to the venue)
> Earplugs
> Costumes
> Face paint
> Masks (All masks must be removable and are subject to search when entering the venue)
> Reusable light-up toys
> Non-professional digital and film cameras, including cellphone cameras
> Small clutches or small, single compartment fanny/hip packs
> Reasonable amount of inflatable toys
> Totems may only be 5-6 ft. tall and constructed on a cardboard tube, no other materials allowed, and cannot be dangerous to public safety
> One factory-sealed bottle of water 20oz or less — caps will be removed at search
> Sealed: cigarette packages, tampons, packs of gum, and chapstick/lip gloss
> Lighters
> Prescription and OTC medications subject to specific conditions (with government-issued photo ID that matches name on printed prescription)
Prohibited Items:
> Any professional cameras, GoPro cameras, any video and/or any audio equipment
> Bags of any kind (except those listed on the Allowed Items list)
> Large bags or backpacks
> Unsealed: cigarette packages, tampons, packs of gum, chapstick/lip gloss
> OTC medication of any kind
> Electronic or vapor cigarettes
> Outside alcohol/food/beverages/cans
> Illegal substances (including marijuana)
> Drug paraphernalia
> Vitamins
> Hula hoops
> Instruments
> Glass in any form
> Large bags or backpacks
> Water guns, water balloons, and/or any other kind of water projectile
> Glowsticks
> Focus light beam devices of any kind, including laser pointers
> Air horns/whistles
> Flyers and stickers
> Marker pens and spray paint
> Fireworks, pyrotechnics, or any other kind of explosive
> Flammable products or materials and sprays
> Pets
> Stuffed animals or dolls
> Tripods, monopods, and selfie-sticks
> Any item that can be used as a means to disturb the peace, endanger the safety of the crowd, and/or inflict damage to people and goods
Entry Conditions:
> Guests are encouraged to leave all prohibited bags at home.
> All guests and their belongings are subject to search, and guests are subject to search by walk-through metal detectors, metal-detecting hand wands, and/or pat-down searches.
> Allowed and prohibited items are subject to change at any time without notice.
> Security personnel reserve the right to make the final determination on allowed and prohibited items and reserve the right to deny entry to any guest.
******************************************************************************************************************
Floor Wristband Info
– IMPORTANT: Floor wristbands will be given out upon entry to the venue. You will not be able to leave the venue once you have received a wristband.
– All lines, including the GA Floor Wristband Line, open at 3pm each day. No one will be allowed to park in the lots or line up until 3pm. If you arrive at the venue prior to 3pm, you will be turned away. This will be strictly enforced. We encourage everyone to follow this guideline as it is respectful to the neighborhood and will keep them happy, ensuring that we can come back in the future!
– Please be sure you have Flash Seats, physical/printed tickets, or have collected your tickets from Will Call BEFORE you get into the GA Floor Wristband Line.
– Please note: you can only receive a floor wristband by entering through the designated doors/line at the NORTH entrance. No wristbands will be given out once INSIDE the venue or at the WEST entrance.
– Please ensure you have read and are in compliance with the 18+ age policy, prohibited items policy and bag policy of the show before lining up in the GA Floor Wristband Line.
– If you have to leave the line due to ticketing issues or problems with the prohibited items/bag policy, you will have to go to the back of the line upon your return. Please be prepared before entering the GA Floor Wristband Line!
– Please note that government approved ID's will be checked prior to having your tickets scanned and receiving your floor wristband. If you are not 18+ years old, you will not be allowed into the venue. Approved forms of ID are listed below!
******************************************************************************************************************
ID guidelines
Acceptable:
> US governement-issued driver license or ID card displaying a photograph and date of birth
> US or foreign government-issued passport displaying a photograph and date of birth
> Foreign government-issued driver license with a color photocopy of a foreign government-issued passport with both documents displaying both a photograph and date of birth
Not accepted:
> School identification cards
> Consular identification cards
> Expired identification of any kind, even if listed on the "Acceptable" list
> Birth certificates
> Photocopies of any identification document except as noted in the "Acceptable" list