DEJA VOOM: DAILY SCHEDULE + ADVENTURES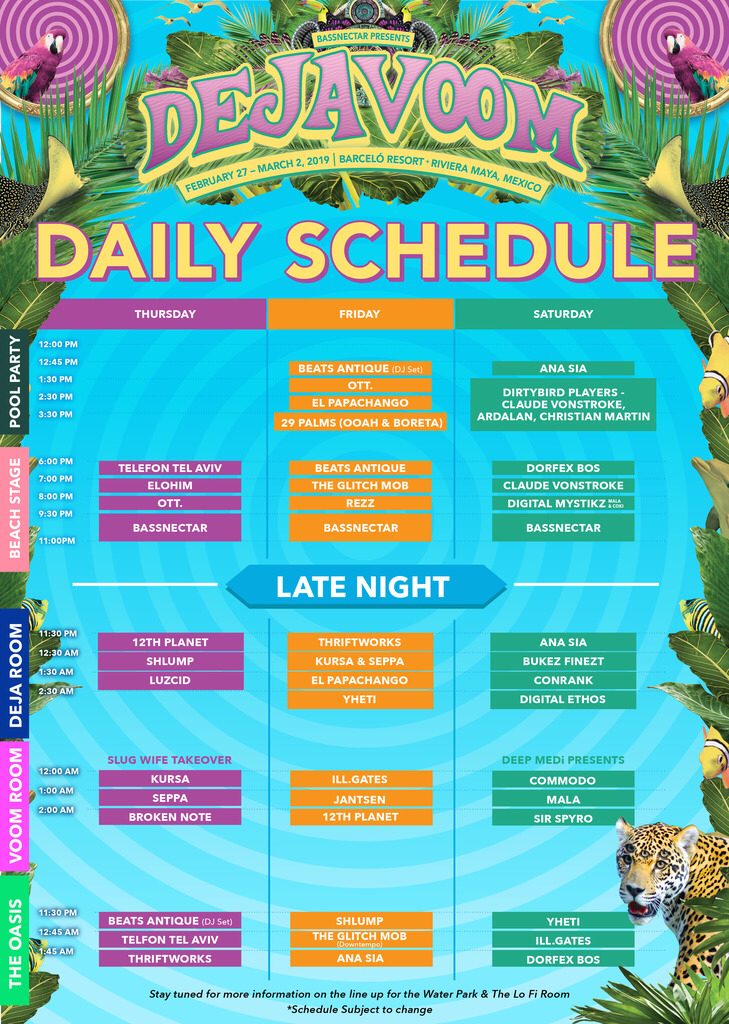 DEJA BOOM!!! Our team has been deep in the labs dreaming up all the details for our first-ever destination event: a tropical adventure down in Mexico. We will be taking over the Barceló Resort in Riviera Maya, with multiple pools, nightclubs, a water park, and a giant stage directly on the stunning white sands beach. In addition to The Haven, our late night Sanctuary Pool, and multiple exploration zones, we have curated a dynamic lineup spread across multiple spaces: The Beach Stage, Day Party Pool, The Voom Room, The Deja Room, The Oasis, The Lo Fi Room, and a newly discovered Pirate Ship Water Park. OH YES!!!
Please also stay tuned for info on the lineups for The Waterpark, the Lo Fi Room and our open deck slots – we will be featuring daily sets from up-and-coming musicians and DJs from the community – Spread. The. Word.
Along with the release of the schedule, you can now pick and choose the menu of offsite adventures which you and your crews can embark on during your vacation experience! From exploring ancient ruins, to cruising on a catamaran, to admiring underground caverns, healing and wellness retreats, and ziplining… there's lots of options for you to choose-your-own adventure all weekend long! Check out the full list and reserve yours: https://dejavoom.com/adventures
Our next updates will feature news on our charity initiatives, greening, Be Interactive programs, carbon offset, workshops, and other ways to get involved (: