DEJA VOOM 2020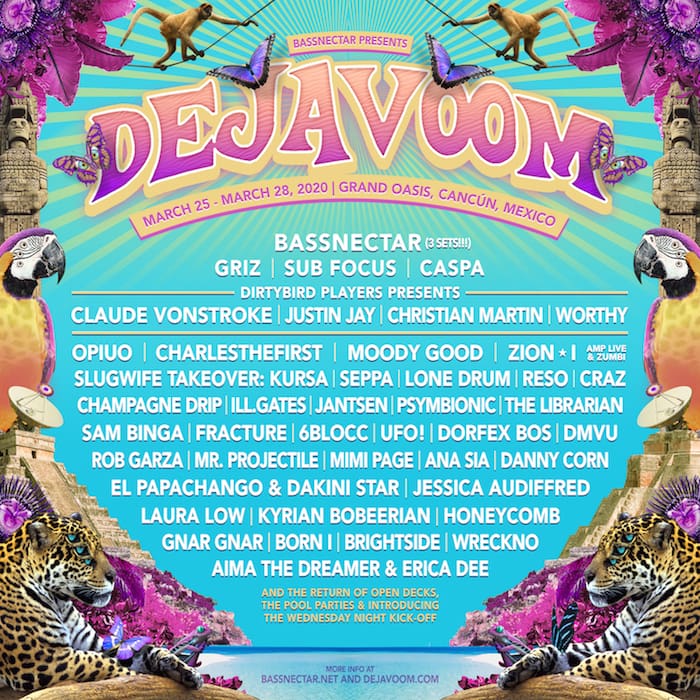 DEJA VOOM IS SOLD OUT! THANK YOU!!!
Early this year, our team came together for a truly one-of-a-kind special event, set in the beauty of the Caribbean; an immersive vacation in a tropical resort – and it exceeded our expectations in every way. From start to finish we were overwhelmed by the absolutely radiant response, and set our sights to developing this into an annual special event.
DEJA VOOM
March 25 – 28, 2020
Grand Oasis – Cancun, Mexico
3 Bassnectar Sets
Oh yes, we're returning to Mexico for another all-inclusive family vacation festival in paradise! This time we head to a brand new location – the Grand Oasis in Cancun – where we have reserved the entire gorgeous property exclusively for our event! We are completely customizing every nook and cranny from the beach, to the atrium temple, to multiple nightclubs and sanctuaries and pools and sound systems – with a musically diverse lineup which spans the spectrum of sound – from the noise to the beauty to everything under the sun (:
DEJA VOOM LOYALTY PROGRAM:
There are lots of updates, announcements and event info still to come, but we want to reassure everyone who was a part of last year's inaugural event that you will have special access to a loyalty presale, which launches next week on Wednesday July 17th at 1pm ET – anybody who came to DV19 will be emailed info direct about how to secure their spot for the next installment of the overseas gathering! Round 2 For The Hardcores!!
SECURE PACKAGES TO OUR MOST INTIMATE EVENT OF THE YEAR:
The general onsale will be Friday July 19th at 1pm ET – so please start the planning and coordination amongst your crew! And if you're looking for new friends to join in on a room or suite, hit up the Bass Network on Twitter, Bass BNB page, or the Love Here community group!
There will once again be Payment Plans for those interested, and we'll be sure to update you regularly about the specifics!
There's a lot of planning and coordination that goes into these destination events, so please take some time out of your day and absorb as much info as you can from the Deja Voom website! So spread the word and review the event info, helpful resources, Payment Plan details, and more here: https://dejavoom.com