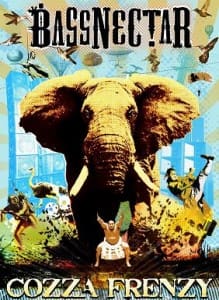 Heads up DC friends- this event is unique! Read on and stay tuned for more info…
Bassnectar will be slayin the 9:30 Club with Nosaj Thing on November 12, 2009 at the 9:30 Club in Washington, DC.
As part of Bassnectar's Cozza Frenzy Tour, the rumble will be provided by the Wobble Factory's PK sound system and the room will flash with Videolicious' visual flair.
This is an all-ages event.
Bassnectar has an extraaaa special somethun' brewin' for our beloved DC bass junkies. Click here to get info from Mizz Lia Holland about the the organizations that will be raging with us at the show.
9:30 Club is located at 815 V St. NW, on the corner of 9th & V Streets, Washington, DC 20001. After the PK Sound Rig gets going, the venue may wobble closer to Howard University. Who knows which way it will go.
Where ever the venue rattles off to, make sure you're inside it when it happens.
[mappress]