ELECTRIC FOREST
Looking forward to another magical weekend in the forest <3
Tickets go on sale Friday, December 7th!
---
Photos from yet another magical weekend in Hampton with this special community of aliens : )
S/O to the Bassnectar Crew, the Ambassadors + Bass Network, Be Interactive, our non-profit partners, and the extended team who went overdrive to make it possible! And also big thanks to the following artists for sharing their music during the event: Noisia, Barclay Crenshaw, Hatcha, Stylust, Ill-esha, Ana Sia, Kyrian + The Fungineers, Revazz, Super Dre, Mad Zach, Brightside, and Of The Trees
Tickets for NYE360 – December 31, 2018
https://www.bassnectar.net/2018/09/return-of-nye360/
Photos courtesy of aLIVE Coverage.
---
CLICK HERE TO BE A ROAMING PERFORMER @ NYE360
CLICK HERE TO APPLY TO BE A LIVE ARTIST @ NYE360
CLICK HERE TO SET UP AN ART INSTALLATION @ NYE360
---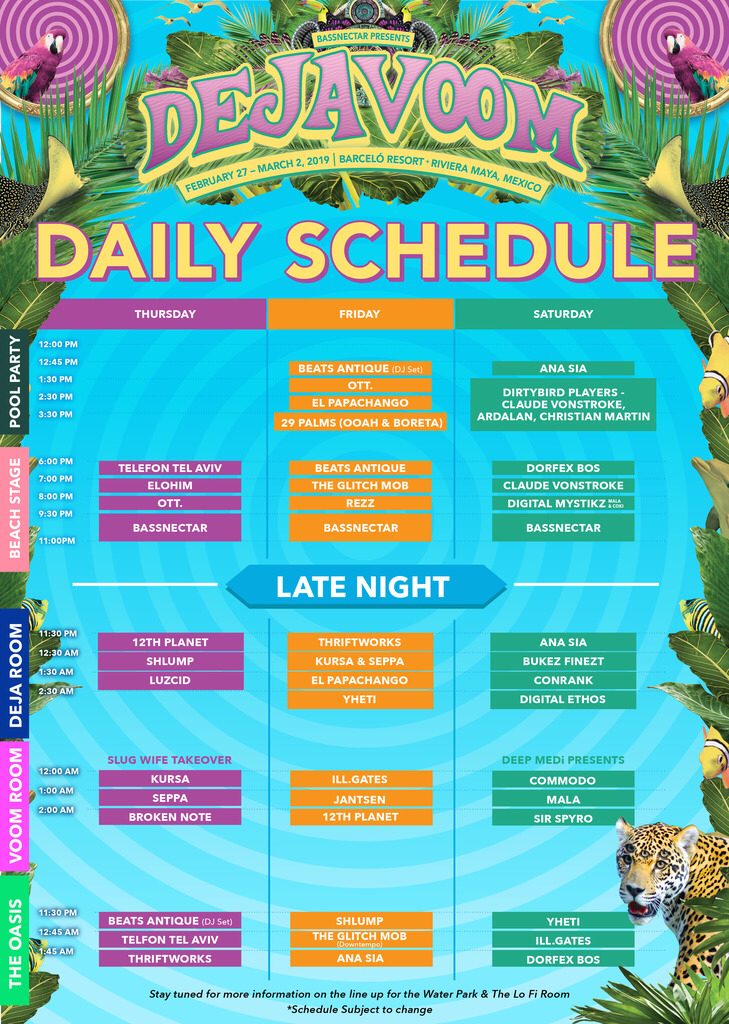 DEJA BOOM!!! Our team has been deep in the labs dreaming up all the details for our first-ever destination event: a tropical adventure down in Mexico. We will be taking over the Barceló Resort in Riviera Maya, with multiple pools, nightclubs, a water park, and a giant stage directly on the stunning white sands beach. In addition to The Haven, our late night Sanctuary Pool, and multiple exploration zones, we have curated a dynamic lineup spread across multiple spaces: The Beach Stage, Day Party Pool, The Voom Room, The Deja Room, The Oasis, The Lo Fi Room, and a newly discovered Pirate Ship Water Park. OH YES!!!
Please also stay tuned for info on the lineups for The Waterpark, the Lo Fi Room and our open deck slots – we will be featuring daily sets from up-and-coming musicians and DJs from the community – Spread. The. Word.
Along with the release of the schedule, you can now pick and choose the menu of offsite adventures which you and your crews can embark on during your vacation experience! From exploring ancient ruins, to cruising on a catamaran, to admiring underground caverns, healing and wellness retreats, and ziplining… there's lots of options for you to choose-your-own adventure all weekend long! Check out the full list and reserve yours: https://dejavoom.com/adventures
Our next updates will feature news on our charity initiatives, greening, Be Interactive programs, carbon offset, workshops, and other ways to get involved (:
---
Reflective Part 3 vinyl hits streets today!
180-gram colored marbled vinyl with gatefold sleeve and liner notes – DELICIOSO!
You can order direct from our store, or from any of these wonderful independent retailers below.
As always we want to thank everyone supporting analog culture, physical formats, and keeping vinyl alive and record stores in business! < 3
AZ – ZIA ENTERPRISES INC.
CA – MAD-RHINO,INC. (Claremont)
CA – HOLLYWOOD AMOEBA, INC. (Los Angeles)
CA – SIREN TRADING COMPANY, INC. (Monterey)
CA – LOU'S INC. (San Diego)
CA – HAIGHT STREET AMOEBA, INC (San Francisco)
CA – RECORP, INC (San Francisco)
CA – STREETLIGHT RECORDS, LTD (San Jose)
CA – SALZER'S MERCANTILE (Ventura)
CO – INDEPENDENT RECORDS OF COLORADO SPRINGS, INC. (Colorado Springs)
CO – GRATEFUL RECORDS, INC. (Denver)
CO – THE COIRO CORP. (Denver)
FL – HALF A MAN, INC. (Orlando)
GA – ERIC'S TRIP, INC. (Atlanta)
ID – PAINTED SMILES, INC. (Boise)
IL – SHUGA RECORDS INC. (Chicago)
IL – AUDIOPHILE MUSIC DIRECT INC. (Chicago)
IL – RECKLESS RECORDS OF LONDON,INC (Chicago)
IL – JOE'S RECORDS, INC. (Marian)
IN – LUNA MUSIC, LTD. (Indianapolis)
KY – CD CENTRAL INC (Lexington)
MA – NEWBURY COMICS INC. (Boston)
ME – BULL MOOSE MUSIC
MI – DEBASER, INC. (Ann Arbor)
MI – DEARBORN MUSIC COMPANY (Dearborn)
MN – DOWN IN THE VALLEY, INC (Minneapolis)
MN – THE ELECTRIC FETUS CO. INC. (Minneapolis)
MO – MILLS RECORD COMPANY, LLC (Kansas City)
MO – VINTAGE VINYL, INC. (St Louis)
MT – CHRIS HENRY (Missoula)
NC – LUNCHBOX RECORDS, LLC (Charlotte)
NH – BULL MOOSE MUSIC
NJ – PRINCETON RECORD EXCHANGE, INC. (Princeton)
NY – A.K.J. RECORD SALES LTD. (Long Island)
NY – NEWBURY COMICS INC. (New York)
OH – GREGORY R. HALAMAY, INC. (Bowling Green)
OK – GUEST ROOM RECORDS, LLC (Oaklahoma City)
OR – LOST HIGHWAY, INC. (Portland)
OR – MILLENNIUM ENTERPRISES, INC. (Portland)
TN – URP MUSIC DISTRIBUTORS, LLC (Nashville)
TX – DAVID R. ECKSTROM (Dallas)
VA – KENNEDY ENTERTAINMENT CORP (Richmond)
WA – RAINY DAY RECORD COMPANY (Olympia)
WA – E-MUSIC, INC. DBA EVERYDAY MUSIC (Seattle)
WA – EASY STREET RECORDS CORPORATION (Seattle)
WA – SILVER PLATTERS LLC (Seattle)
WA – BRIAN KENNEY (Tacoma)
WI – THE EXCLUSIVE COMPANY CORP.
NAT – ALL MEDIA SUPPLY LLC
NAT – ALLIANCE ENTERTAINMENT
NAT – GOTHAM DISTRIBUTING CORPORATION
---