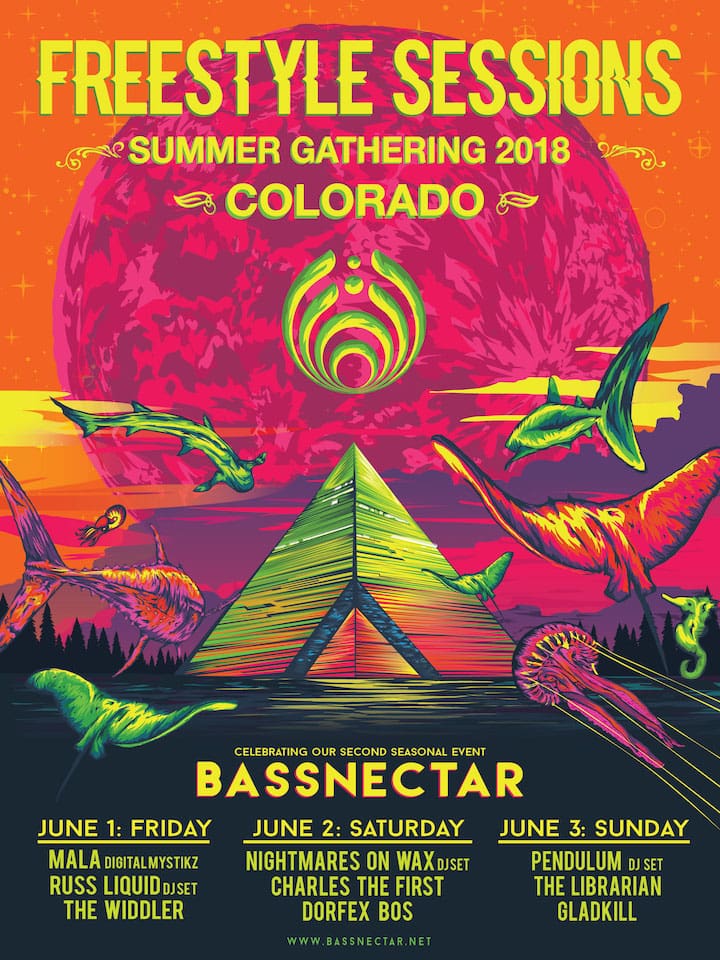 Freestyle Sessions: Summer Gathering
June 1st, 2nd, 3rd – 2018
We are bringing the Freestyle Sessions back to Colorado! Join us at the 1stBank Center for our Summer Gathering 2018 with three insane nights of deep sonic exploration! Last year's experiment was a specially themed trilogy featuring gobs of creative genre-mashing with countless throwbacks, rare versions, and the perfect blend of old school and new school. This year the themes will again be Freestyle, Dreamtempo & Wildstyle, and our lineup is custom cut to fit the bill. In addition to a full-power bassnectar set each night will be guided by the likes of:
FRI 6/1: Mala (Digital Mystikz) • Russ Liquid dj set • The Widdler
SAT 6/2: Nightmares on Wax • CharlesTheFirst • Dorfex Bos
SUN 6/3: Pendulum dj set • The Librarian • Gladkill
Tickets on sale now!

TICKETS ARE SOLD OUT – THANK YOU COLORADO!
Read more »
---
We have a might of musical force making its way to Chicago for our Spring Gathering!!
In addition to 2 x full-length, custom-crafted Bassnectar adventures, we have an unquestionably badass support lineup, featuring sets from:
REZZ, TroyBoi, TOKiMONSTA, Ivy Lab, Danny Corn, and Andreilien!
PLUS announcing our official extra afterparty action, running both nights at Concord Music Hall, with ill.Gates, EOTO, Jantsen and DMVU joining us, plus extra helpings of Danny Corn, Andreilien, and Ivy Lab, with more TBA… : )
All tickets are on sale now!
> CLICK HERE FOR SPRING GATHERING TICKETS
CLICK HERE FOR NIGHT 1 AFTERPARTY TIX AFTERPARTY NIGHT 1 SOLD OUT
> CLICK HERE FOR NIGHT 2 AFTERPARTY TIX


Spring Gathering tickets:
https://www.ticketfly.com/purchase/event/1594126?utm_medium=bks
Official Afterparty tickets:
Friday March 30 – EOTO, Jantsen, DMVU, + more TBA
SOLD OUT
Saturday March 31 – ill.Gates, Ivy Lab, Andreilien, Danny Corn + more TBA
https://www.ticketfly.com/purchase/event/1648713?utm_medium=bks
---
<3 HAPPY VALENTINE'S DAY TO ALL MUSIC LOVERS <3
Here is the brand new Naux Faux EP: a transmission of love for you and your friends.
Naux Faux is a downtempo side-project with longtime collaborator Sayr which celebrates the magical nostalgia of an era from the past: like a warm beam of sunlight on a lazy afternoon, close your eyes and feel the sound wash over you.
File under: freestyle melodic electronica from the 1990's. 🙂
---
CLICK HERE TO BE A ROAMING PERFORMER @ THE SPRING GATHERING
CLICK HERE TO APPLY TO BE A LIVE ARTIST @ THE SPRING GATHERING
CLICK HERE TO SET UP AN ART INSTALLATION @ THE SPRING GATHERING
---
SUMMERTIME CAMP BISCO MAYHEM!
Returning to camp for our 10th year!!!!!!!!!!
Join us for another wild ride : )
---